Custom Computers Loughborough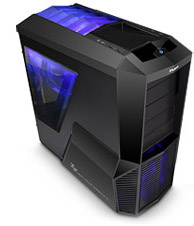 STORMComponents can build custom computers of all sizes and to fit all budgets. We specialise in high-end gaming setups, but also build hundreds of home and office computers - both new and refurbished.

We offer guidence, suggestions, and pre-designed builds to anyone who isn't sure about what to put into their computer, but we're also open to detailed specifications from those who know exactly what they want, and just need a skilled hand to build it.

We can offer you the choice of several operating systems including Windows 10, Windows 7, and Linux, or if preferred - we could leave the software installation up to you.


I would highly recommend STORM for all your computer needs. We were well looked after and kept informed all the time they had our laptop. Tom is very helpful and friendly and was happy for me to call numerous times when needing advice. I am delighted with the service I have received and I wish STORM the very best for the future.
Hayley Pedwell
Really fast and helpful service. Got sorted on the day my problem arrived. And was. Fixed within no time. Would recommend.
Laura Barbé
View Testimonials
free tech support

quick contact
pc repair service
60 day guarantee
no fix - no fee
Click here to find out more!