Custom Computers Loughborough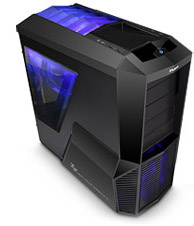 STORMComponents can build custom computers of all sizes and to fit all budgets. We specialise in high-end gaming setups, but also build hundreds of home and office computers - both new and refurbished.

We offer guidence, suggestions, and pre-designed builds to anyone who isn't sure about what to put into their computer, but we're also open to detailed specifications from those who know exactly what they want, and just need a skilled hand to build it.

We can offer you the choice of several operating systems including Windows 10, Windows 7, and Linux, or if preferred - we could leave the software installation up to you.


...Tom [STORMComponents] also deals with all of our PC technical support, and always responds to our calls and problems quickly, resolving them in record time!
Hello Edwards
Tom has set up and maintained our networks. He has repaired five of our on site computers and built one from scratch. He has always gone out of his way to provide a quick and reliable service to ensure that any problems are solved as soon as possible.
Thoth Publications
View Testimonials
free tech support

quick contact
pc repair service
60 day guarantee
no fix - no fee
Click here to find out more!